2017 Winter Show Performance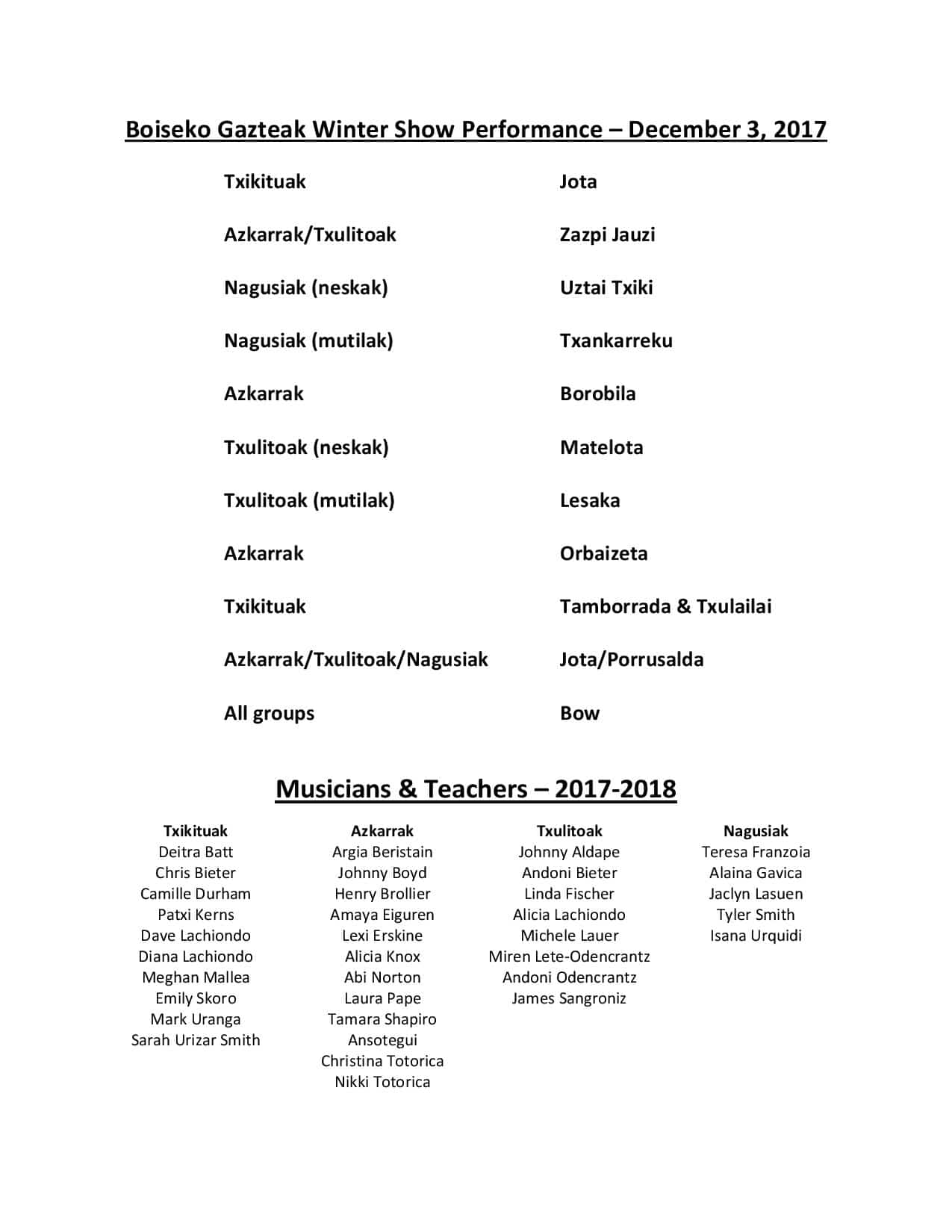 Practice begins at 7:00PM.  Please make sure to drop off and pick up your dancer(s) on time.  Dancers need to be ready with dance shoes, water, and restroom breaks taken care of BEFORE practice.
Practice places will be as follows:
Txikituak (txiki) – (4-5 year olds) – Basque Center Main Floor
Azkarrak – (6-7 year olds) – Basque Center Basement
Txulitoak (txulito) – (8-10 year olds) – Fronton Basement
Nagusiak – (11-14 year olds) – Basque Museum Classroom
Please make sure you sign up for volunteer shifts (two per family) using the link below.  Boiseko Gazteak cannot thrive without the help of our many volunteers.  Additionally, we rely on Euzkaldunak for so many things, include financial support and use of their space, so it is critical that we pay them back by filling volunteer shifts at their events.
On Tuesday, October 17, we would like all the parents to stick around for a few minutes at the beginning of practice so that a few of the instructors can speak about our volunteer obligations.  If you have children in multiple groups, you only need to attend one meeting, so feel free to take your pick.
Volunteer link: http://signup.com/go/jWjPDWQ
09/26 – First practice at 7PM (practice each Tuesday until November 28, no practice on October 31 (Halloween) & November 22 (Thanksgiving week))
10/17 – Quick instructor/parent meeting (all practice locations)
12/03 – Winter Show/Christmas Party
01/09 – Practice resumes at 7PM (practice each Tuesday until March 6)
03/11 – Spring Show
07/24 – San Inazio practice at 7PM
07/28 – San Inazio performance (Basque Block)
If you have questions, or you would like to be added to the Boiseko Gazteak email list, please contact the Boiseko Gazteak board: email
"Izan zirelako gara, garelako izango dira"
Because they were we are, because we are they will be